February 25th, 2014
Sharing links from a mobile web browser to the native apps on your device should be straightforward, and when you click a service's share button on the mobile web, you expect the respective app to open, but it doesn't yet. AddToAny is solving the problem by bringing native apps a big step closer to users of the open web.
First up: Twitter & Google+
Coming this week, AddToAny will begin giving mobile device users the option to share a link using official apps instead of mobile websites.
Oftentimes, for example, a Twitter user is logged into the official Twitter app on their device but not signed into twitter.com in their mobile browser. So the user foregoes sharing because logging in feels like a chore on the mobile web. A brand new AddToAny feature fixes this roadblock and further enables link sharing on mobile. It works like a charm, and you'll see it in action by the end of the week.
Google+ mobile web-to-app sharing works just like it does for Twitter, and will also be available to AddToAny users by the end of the week.
Next up: WhatsApp
All over the world, people know WhatsApp as a favorite messaging service that works between phones. In the United States, people know WhatsApp as that 11-digit acquisition by Facebook, so truly, many of us are just learning how cool a service WhatsApp is over here.
Coolest thing about WhatsApp in our opinion? The app openly accepts message sharing from the web, and where messages are accepted, links are to be shared. Thanks to their excellent foresight with their native app, today we finally welcome WhatsApp to AddToAny's universal sharing service, and we're happy to be the first to include them. Enjoy sharing directly to WhatsApp from websites on your iPhone, BlackBerry, Nokia, Symbian, or Windows Phone.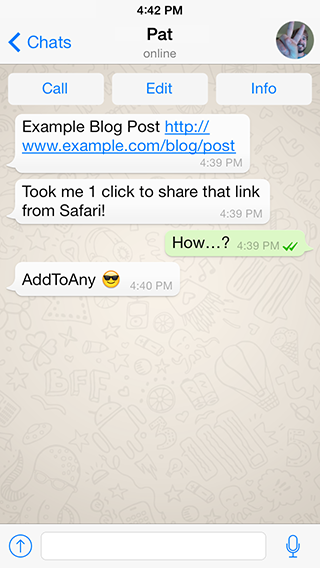 About all those other apps
The web still eagerly awaits Facebook, Skype and dozens of other popular apps to support message passing (and thus shared links) like Twitter, Google+, and WhatsApp do. We implore mobile app developers to consider offering protocols & URI schemes that accept messages & links, particularly if their service is already included (or to be included) in AddToAny.
Like always, expect AddToAny to swiftly enable mobile web-to-app link sharing as soon as a mobile app supports it. We're already following up with a few other services right now that we hope to mobilize soon.
As for standard SMS, we wish it worked as standardly open as sharing via email works, so we raise the question: Which mobile operating systems will be the first to implement the SMS protocol correctly to allow for an initial message? Until then, consider using Twitter and Google+, and consider WhatsApp!
Try sharing from the mobile web
February 14th, 2014
As of today AddToAny automatically integrates with Universal Analytics, the latest major update to Google Analytics. Publishers and developers tell us that AddToAny is the first major sharing platform to integrate with Universal Analytics, and we are not surprised, just happy to continue offering free sharing stats in the analytics dashboard you already use. AddToAny was first to integrate with Google Analytics way back in 2008, and we continue to offer tracking methods for other analytics platforms.
What does this mean for your share buttons? It means no worries. Whenever you make the upgrade to Universal Analytics, AddToAny stats will continue to automatically roll into your Google Analytics dashboard no matter what version of Google Analytics your site is running.
In fact, a website that uses any one flavor of Google Analytics is covered, going as far back as the original urchin.js "WebAnalytics" code, the synchronous ga.js code, the asynchronous ga.js code, or the new asynchronous analytics.js Universal Analytics code. Any Google Analytics code snippet (or plugin) is compatible with AddToAny sharing stats.
See the Google Analytics access guide for details on where to access Social Interaction Tracking stats in Google Analytics.
As requested by some, we are maintaining the Google Analytics event tracking method for at least a few months longer. For a painless transition, the event tracking method works in tandem with Social Interaction Tracking. Event tracking will remain in place indefinitely for one of our hidden gems, the AddToAny Subscribe button.
With that, enjoy the weekend, Happy Valentine's & House of Cards Day, and let's look forward to seeing AddToAny sharing stats in Universal Analytics next week!
October 30th, 2013
Scalable vector sharing icons have arrived!  For the past months, we have been rolling out beautiful new "SVG" icons across the AddToAny platform.

These aren't your ordinary raster graphics. AddToAny's SVG sharing icons are infinitely scalable, customizable, crisp on high density pixel displays, mobile-ready, super-lightweight, and cross-browser.  Make them as large as you want, make them rounder or square, animate them using CSS transitions & animations, and never worry about graphical perfection and efficiency, because that's what AddToAny strives for:
Perfectly beautiful, technically perfect.
Developers know that AddToAny maintains excellent backwards-compatibility, and SVG icons are no exception. In older web browsers such as Internet Explorer 6 & 7, which do not support SVGs, AddToAny gracefully uses raster icons instead of vector icons. All modern web browsers (Chrome, Firefox, Internet Explorer, Safari, Opera, and many more) will display AddToAny's SVG sharing icons.
At AddToAny, extreme efficiency is always top of mind, so we challenged ourselves to offer new vector icons in just one web request. The result is a fully minified and concatenated single download that renders icons only on demand. It's so incredibly efficient that soon AddToAny will default to vector icons (instead of traditional raster icons) on high-PPI displays such as Retina displays.
So far, Facebook, Twitter, Google+, Pinterest, Reddit, Tumblr, StumbleUpon, WordPress, VK, and dozens more services are among the first SVG sharing icons, with more continuing to roll out. Like traditional sharing icons, AddToAny vector icons will be receiving the same constant updates as logos change.
For WordPress and Drupal publishers, the latest versions of the WordPress sharing plugin and the Drupal sharing module have been updated to support AddToAny's new vector icons. For publishers & developers on other content management systems, you can get the new icons and code from AddToAny's share buttons generator and read the docs on further customizing the icons.
We're excited to bring vector sharing icons to modern web devices, and it's a thrill to contribute to a more perfect, beautiful, modern web.