Joomla share buttons plugin available now
April 8th, 2014
AddToAny's share buttons plugin for Joomla has officially arrived!
This brand new sharing plugin makes it easy to place AddToAny on Joomla sites and is compatible with Joomla versions 2.5 through 3+. Like our other platform plugins, you can definitely expect AddToAny to support future Joomla releases as well.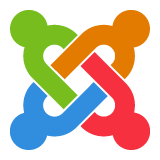 Joomla publishers and developers have been asking about an official AddToAny Joomla extension for [far too many] years. Many used Bill Smith's original AddToAny extension through Joomla 1.5, and those on a more recent Joomla release had to implement AddToAny's general code or write their own Joomla extension. Code can be wonderful, especially for customization, but plug & play appeals to all, especially when it just works. We've struck a balance between both camps in version 1.0.0 of our Joomla plugin.
Once installed & enabled (it's pretty easy), the AddToAny plugin automatically displays share buttons below each article. Each article's buttons share the respective article. You can change AddToAny's placement to the top, bottom, or top and bottom of your content. You can choose whether to display share buttons in articles on the Front Page, or to exclude certain categories. You can disable sharing for individual articles too.
The default share buttons are AddToAny's mightily efficient and beautiful SVG share icons, including Facebook, Twitter, Google+, and of course AddToAny's universal share button. You can add or remove services, use custom icons, and insert custom HTML.
Perhaps best of all, the AddToAny Options panel allows you to customize AddToAny with additional JavaScript from AddToAny's JavaScript API. This opens up a great range of customizability, and each feature is usually just a few lines or a single line of code. Check out the docs for what you can do. For example: track shared links with URL shorteners, apply a custom Twitter message, apply a custom email template, customize the universal share menu, and so much more.
We're excited to officially bring AddToAny sharing to more Joomla sites, and we look forward to your feedback to make the AddToAny plugin the best Joomla extension for sharing.